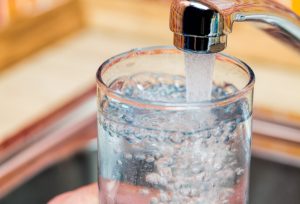 When most people think of tap water, they probably do not associate it with health risks. However, there are PFAS chemicals contaminating the drinking water in well over half of American states and PFAS chemical testing plays a crucial role in reducing the threat.
What are PFAS chemicals?
PFAS is the common name for perfluorinated and polyfluorinated alkyl substances, a category of man-made chemicals known for its fluorinated carbon chains. PFAS substances are particularly resistant to heat, water, and oil, so they do not break down easily in the environment. These characteristics provide valuable benefits in certain products, allowing the production of heat-resistant cookware and fire-fighting foam, for example. However, this durability allows the chemicals to linger in the environment.
PFOA and PFOS are two types of PFAS and they have been the focus of governmental regulation because of their effect on human health and the environment. Under EPA regulations, they either may no longer be manufactured or are being phased out in American productions, but the chemicals may also be released by imported products. Since the compounds do not degrade, some locations have experienced significant accumulation that poses health risks to the area.
PFAS exposure can lead to serious health complications like impaired endocrine function and autoimmune dysfunction. Early exposure to PFAS may also be associated with low birth weight, a delayed onset of puberty, and depressed response to vaccines, among other things. Some PFAS may even be toxic.
PFAS testing in study finds widespread water contamination
A study led by scientists from the Harvard T.H. Chan School of Public Health and the Harvard John A. Paulson School of Engineering and Applied Sciences examined just how widespread the problem of PFAS contamination is. According to the researchers, unsafe levels of PFAS chemicals contaminate drinking water in two thirds of the states. The study, published in Environmental Science and Technology Letters in August 2016, found that more than 16 million people in 33 states, three American Territories, and an Indian reservation are exposed to unacceptable levels of PFAS in their drinking water.
The Harvard researchers project that the actual numbers of affected individuals is much higher because there is incomplete government data for almost one third of the population, making up about 100 million people. The drinking water in 13 states accounted for 75 percent of the PFAS contamination and Florida ranked fifth by frequency of detection.
Benefits of PFAS, PFOA and PFOS testing
In November 2016, the EPA released a PFOA and PFOS advisory to update and replace its prior 2009 advisory. The advisory establishes a health advisory level of 70 parts per trillion. The EPA advisory's recommended action calls for reliance upon testing to assess and limit PFAS exposure.
Blood tests show that nearly all people are contaminated with PFAS chemicals but as the use has been phased out, the contamination has slowly decreased.
Phoslab Environmental Services is a leading environmental testing laboratory in central Florida. Our staff of professionals offers quick turnaround and accurate analysis to meet the PFAS testing needs of industries like municipalities and manufacturing. Call today to learn more about how we can help you.
Additional PFAS Testing Resources