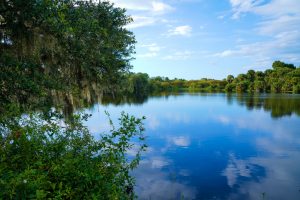 At Phoslab, our Florida surface water sampling procedures include precision testing using the latest state-of-the-art equipment. This ensures accurate and reliable readings. Our service provides necessary data for various industries, ranging from agricultural to environmental engineering sectors. Learn more about our procedures and practices for quality assurance in environmental testing.
Why Conduct Surface Water Testing?
Protecting natural bodies of water and aquifers is a critical step in ensuring the purity of the water that Floridians rely on for drinking. Wildlife also rely on clean water for preserving their habitat. In urban areas or water sources near brownfields, the water is prone to pollutant exposure, including pesticides, herbicides, and other chemical runoffs from factories. Pollutants are numerous and may be chemical or biological.
Florida surface waters are especially prone to contamination due to the geographic region's hydrogeologic features that include thin soil layer, porous limestone, high water table, and dense annual rainfall.
Natural and manmade disasters can also leave water prone to contamination. In 2016, a sinkhole caused radiation to leak into an aquifer in the city of Mulberry. In the same year, the Environmental Working Group released a report identifying 20 Florida cities as having dangerously high chromium levels in their drinking water.
Environmental Protection Agency Mandates
Growing concerns of water pollution prompted the EPA to create the Clean Water Act (CWA) in 1972. The CWA outlines the standards regarding common contaminants found in surface waters. Federal law mandates that water quality from bodies of water be tested every three years. This is in addition to state laws, which may have their own requirements. The CWA applies to both natural and manmade source of water, including lakes, rivers, streams, wells, wetlands, and estuaries.
Learn more about the CWA at the EPA's official site.
The EPA also has extensive guidelines for water quality assurance at the state level for all 50 states and territories. See this site for Florida's state-level CWA requirements. This is the go-to section for reviewing guidelines, looking up permit requirements, and familiarizing yourself with the official administrative codes.
What We Do at Phoslab
Our certified lab has the capability to provide an accurate and detailed analysis for both public and private water systems. Our results determine whether the quality meets the latest standards set forth by EPA at both federal and state levels. We provide scheduled testing, detailed reports, automated reporting, and full field reports, all of which we provide directly to your company or submit to the state's reporting system.
Our Methodologies
All of our Florida field sampling procedures are approved by the EPA. We collect water using a variety of methods that ensure only the surface water is collected and not the water that lies at the sediment bottom, which contains deposits that may bias the sample. When collecting sample from a body of water or water conveyance, we may employ the following methods:
Automatic samplers
Submersible pumps
Buckets or bailers
Peristaltic pumps
Discrete depth samplers
While these are the procedures for collecting surface water, we may also perform separate groundwater testing at the request of the client. Roughly 90% of Floridians get their drinking water supply from a groundwater source. This is another area to consider if your sector provides water for human use.
As for our laboratory tests, we use procedures approved under the Clean Water Act. For chemical detection testing, this may include ion chromatography, semi-automated colorimetry, and spectrophotometering.
For microbiological detection, our tests include multiple tube fermentation, bacteriological water analysis, and more.
Our methods are diverse, and we may employ one or more methods depending on client request.
What We Test For
Our labs employ the latest procedures for determining known and common pollutants in Florida. This includes bacteria, lead, nitrates, and algae blooms. It also includes a host of dangerous chemicals, such as:
Tetrachlorethylene (PCE)
Ethylene dibromide (EDB)
Trihalomethanes (THMs)
Petroleum
Synthetic fertilizers
Temik
Mercury
All pollutants listed above have been officially identified as being human health hazards by the Florida Department of Health (FDH). The department has identified a total of 118 organic chemicals deemed toxic.
The FDH also identifies waterborne illnesses that have been recorded in Florida fresh bodies of water. Some of the identified diseases include:
Vibrio vulnificus
Naegleria
Legionella
Giardia
Cryptosporidium
Primary amebic meningoencephalitis (PAM)
Only a state-certified lab like Phoslab has the equipment and standard operating procedures to provide reliable testing. Furthermore, the EPA and other regulatory bodies only accept data reports from certified testing centers.
Phoslab a Trusted Provider in Florida Surface Water Sampling
Many industries handle water sources on a daily basis. The water may be intended for human use or habitat maintenance. The surface water needs to be tested per EPA guidelines. Call Phoslab Testing Laboratories for field sampling and analysis. The results will yield data regarding H2O purity levels. From there, remediation can be taken to improve water quality as needed.
Further resources on Florida water sampling:
EPA, History of the Clean Water Act, https://www.epa.gov/laws-regulations/history-clean-water-act
EPA, Water Quality Standards Regulations: Florida, https://www.epa.gov/wqs-tech/water-quality-standards-regulations-florida