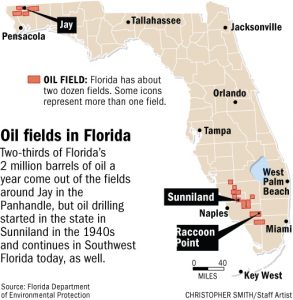 by Curtis Morgan
The oil industry is primed for resurgence in Southwest Florida.
Fueled by lofty oil prices, more efficient drilling techniques and the promise of untapped but also largely unproven reservoirs, at least a half-dozen companies plan to expand exploration across the region.
They've quietly spent between $10 million and $20 million over the last few years, by the estimate of one industry executive, to buy mineral rights covering massive swaths of Collier, Lee and Hendry counties.
Now, drilling is picking up, with companies reviving long-abandoned fields and low-producing wells in and bordering the Big Cypress National Preserve, the historic heart of oil operations that go back 70 years. They also aim to poke prospecting "wildcat" wells into new areas like a tomato farm in Immokalee and the subur
ban outskirts of Naples.
It's likely to amount to a drop in the barrel compared to black gold booms that the controversial practice of "fracking" has generated in once obscure sites in Texas, North Dakota and other states.
Read the full story here at the Miami Herald