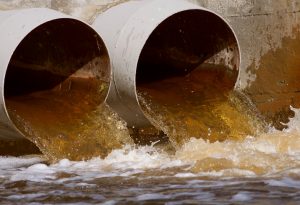 Hurricane Irma was one of the most powerful storms in history and its effects continue to impact the hardest-hit areas, including the state of Florida. News coverage has focused on power outages and flooding, but a less-known effect is the harmful water contamination that continues still.
According to reports filed with the Florida Department of Environmental Protection, tens of millions of gallons of sewage – treated, untreated, and semi-treated – was discharged into homes, streets, businesses, and waterways, making the water unsafe for humans in many areas. In some cases, chemicals and gasoline have also been released into floodwater, causing dangerous algae that can suffocate marine life.
Hurricane Irma power outages lead to water contamination
Much of the problem is sewage-related. As water treatment facilities lost power, their pumps stopped working and untreated water was released into city streets and waterways, and backed up into homes and businesses. For example, when pumps in Clearwater lost power, more than 300,000 gallons of partially treated effluent was released into a creek. In Miami-Dade County, more than 30,000 gallons of raw sewage flowed into a public park.
In light of the widespread problem, the U.S. Environmental Protection Agency is taking a soft approach toward the facilities tasked with controlling water output. According to one EPA official, "Hurricane Irma has produced circumstances beyond the reasonable control for some permittees to maintain full compliance with their permit provisions."
However, it is clear that permittees need to act quickly to get back online and in position to properly monitor water discharge. An EPA official went on to state, "The EPA also recognizes there may be other unforeseen issues that arise as a result of this disaster and we stand ready to work together with our state partners to address these potential issues as they arise. The EPA recognizes the importance of keeping these facilities operating and where necessary getting the facilities back on line as soon as possible."
Irma contaminated water poses health risks
Where untreated and semi-treated water is being released into water sources, there is a risk of intestinal upset caused by fecal bacteria contamination. Where there has been dangerous release of other toxins, dangerous algae bloom threatens fish and sea plants.
For homes and businesses, there are precautions that can minimize damage once a problem is identified. For example, the DEP has offered instructions on how homeowners can bleach their home well water if testing shows it is contaminated.
Contaminated water testing in Florida
Phoslab Environmental Services, in Lakeland, services the entire state when it comes to Florida wastewater testing. We offer a full range of environmental laboratory testing services to determine waste water quality and ensure compliance with state and federal environmental laws.
Additional "Hurricane Irma water contamination" resources:
Florida Department of Environmental Protection, Notices of Pollution,

http://prodenv.dep.state.fl.us/DepPNP/reports/viewIncidentDetails?page=1

EPA, Flooding,

https://www.epa.gov/natural-disasters/flooding

Washington Post, In Irma's wake, millions of gallons of sewage and waste water are bubbling up across Florida,

https://www.washingtonpost.com/news/energy-environment/wp/2017/09/15/in-irmas-wake-millions-of-gallons-of-sewage-and-wastewater-are-bubbling-up-across-florida/?utm_term=.5df233170937